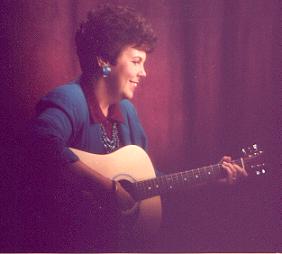 Deanna Edwards sings about life and all it's experiences, both pleasant and painful. Singer, author and composer, Deanna travels thousands of miles each year and devotes hundreds of hours to workshops held throughout the United States, Canada, South Africa, New Zealand and Israel. She was featured on a national television special in South Africa in 1992. Singing in sixteen different languages, Deanna utilizes music in her lectures, as well as therapeutic work with patients and residents. With a deep interest in muisic therapy, Deanna recorded twelve albums of her original music. Many of her songs reflect the feelings of the sick, dying, the elderly and those who are grieving. She created the first musical library for persons with special needs, adding a valuable contribution to musical literature. Her songs have been used in films produced by the American Journal of Nursing, Batesville Management Services and the American Health Care Association. She has appeared eight times on the nationally syndicated show, "Christopher Close-up". Her song, Teach Me To Die was used on an NBC News special, On Death and Dying and has been used as a theme song for the national Hospice movement. Folks Don't Kiss Old Folks Anymore has sbeen used by long-term care professionals for many years. She worked in concert with Canadian producers on a cassette series for cancer patients entitled Voices in the Night which included her composition, Bird With A Broken Wing.
Her best-selling book, Grieving: The Pain and the Promise gives invaluable help to those who are learning to live with loss. A companion volume is entitled, Suicide: A Nation At Risk. Her book, Music Brings My Heart Back Home, is a heart-warming account of her experiences in hospitals and nursing homes. Her most recent book, Wanted: One Family, is a moving story of an elderly man's courage, and forty years of loneliness that touched the hearts of America's first family and families across the nation. She is Currently working on the book, The Dougy Turno Story: A Child's Love, which describes the moving journey of a dying child, and the world-wide children's grieving centers that are his legacy. She was a contributing author to the book, Nursing Care of Children and Families: A Wholistic Approach.
Deanna served on the Foundation Board of Directors for the American College of Health Care Administrators and is currently an adjunct faculty lecturer on Music Therapy at Utah State University. She served on the advisory board for Senior Community Services in South Dakota. She was selected as one of 50 American Heroines by the Ladies Home Journal in it's July 4, 1984 issue. She received the "Distinguished Service to Mankind Award", presented by Utah's chapter of Sertoma International, and was voted Utah's "Hero of the Year Award" by the Freedom Foundation at Valley Forge. Her interview on the Sacred Heart Radio Program, "Voice For The Hurting", in St. Louis, won the prestigious New York Radio Festival Award, and the Religion in Media's "Angel Award".
She and her husband, Cliff, are the founders of Rock Canyon Music Publishers. They are the parents of four sons. Most of all, Deanna is a sensitive human being who sings to bring peace to those who are hurting. Her workshops prepare us for the most exciting of all adventures - a musical journey into the human heart. Her music and message is for everyone... everyone who has ever laughed, ever cried, ....ever been afraid of the unknown.